Forum Box spring 2024 exhibition program has been published! Read more about the artists and the upcoming exhibitions from below. More detailed information about the exhibitions will be updated on our website during the Spring.
13.1.–5.2.2023
Ilya Orlov
Mediabox: Sini Pelkki
10.2.–5.3.2023
Markus Konttinen
Mediabox: Pasi Autio
10.3.–2.4.2023
Pekka Niskanen & Mohamed Sleiman Labat
Leonor Ruiz Dubrovin
Jenni Haili
Mediabox: Ninni Korkalo
8.4.–30.4.2023
Noronkoski–Rainio–Siren
Mediabox: Leena Kela
ILYA ORLOV – God Out of a Washing Machine (Jumala pesukoneesta)

13.1.

–

5.2.2023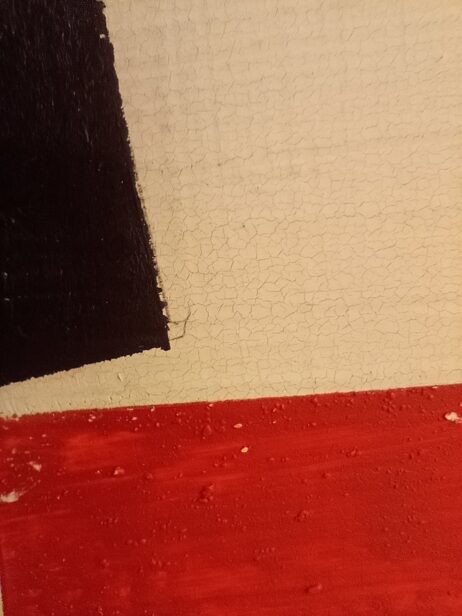 God Out of a Washing Machine is the first large solo exhibition by Helsinki-based artist Ilya Orlov, probably best known in Finland for his conceptualist re-enactment of the former Lenin museum-apartment in Hakaniemi in 2017, the Dadaist intervention into Seurasaari museum display in 2016, and internationally, for participating in Manifesta-10 in 2014, as well as, recently, co-founding and co-editing Shy Plumber, Anti-War Journal of Art and Anti-Art.
In Orlov's new show, his trademark strategy of hacking traditional exhibition formats, toying with contemporary art clichés, and poeticising art administration jargon is pushed a little further. A solo exhibition looks like a group show of mutually incompatible artists; wall texts that normally explain the exhibits become exhibits themselves, to be explained by the works. Finally, the exhibition statement, instead of telling explicitly what it is all about, offers a piece of 'international art English' so convoluted that it makes one nostalgic about the clarity of e-flux announcements:
"Marrying Duchamp's eroticist mechanics with forgotten baroque landscape painting; scrupulously recreating Malevich's craquelures (only for the sake of switching on gravity in his weightless utopia); putting the artist's own witticisms into the mouths of contemporary philosophers like Timothy Morton and Donna Haraway; planting inverted perspective of Byzantine icons into constructivist axonometry; and finally, turning Sol Lewitt's cube into a 'metaphysical washing machine', the exhibition invites the viewer to look at culture and art itself through a psychedelic conceptualist kaleidoscope of sorts."
The exhibition presents works in varied mediums, including painting, lithography, watercolour, kinetic sculpture, text, readymade, photography, assemblage, installation. The works are available for purchase via Forum Box. Half of the artist's benefit from the works sold will be directed to charity organisations helping Ukrainian refugees.
Ilya Orlov (b. 1973) is an artist, theorist, journal editor, and Kuvataideakatemia doctoral researcher residing permanently in Finland since 2015. Orlov's works have been shown as part of Manifesta 10 (2014). In 2018, Orlov was shortlisted for the Finnish Pavilion at the 2019 Venice Biennale (in collaboration with Joanna Warsza, Minna Henriksson, Britta Marakatt-Labba, Ahmed Al-Nawas, Gianni Talamini). Orlov is co-editor of the independent international anti-war art journal Shy Plumber published in Finland (ISSN 2736-8203), presenting artists and writers from Finland and abroad holding a strong anti-war and anti-putinist stance.
MARKUS KONTTINEN – Pohjoisen valossa syntyneet
10.2.

–

5.3.2023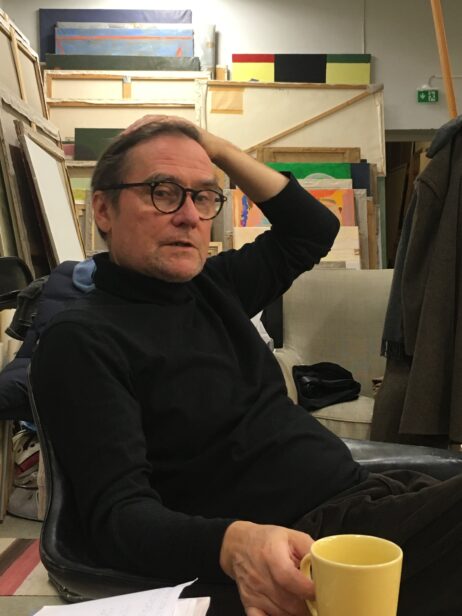 Näyttelyssäni näkyvät valon synnyttämät ja värin energian muovaamat elävät muodot, maalauksen kielen kautta. Teokset ovat öljyvärimaalauksia kankaalle sekä värikynäpiirustuksia ja vesivärimaalauksia paperille.
Markus Konttinen (s. 1957) on toiminut kuvataiteilijana vuodesta 1978. Hänellä on ollut noin satakolmekymmentä yksityis- ja yhteisnäyttelyä yhteensä Suomessa ja ulkomailla vuodesta 1982 lähtien. Konttisen teoksia on kaikissa keskeisissä julkisissa kokoelmissa Suomessa ja sekä monissa suomalaisissa ja ulkomaisissa julkisissa ja yksityisissä kokoelmissa. Hän on valmistunut Taideyliopiston Kuvataideakatemiasta ja toiminut siellä myös lehtorina, professorina, vararehtorina, rehtorina ja dekaanina. Tunnustuksia: Vuoden Nuori Taitelija (Tampereen Taidemuseo), Pro Finlandia -mitali (Suomen Valtio), Taideyliopiston Kunniatohtori (honoris causa).
PEKKA NISKANEN & MOHAMED SLEIMAN LABAT – Nomadic Seeds
10.3.

–2

.4.2023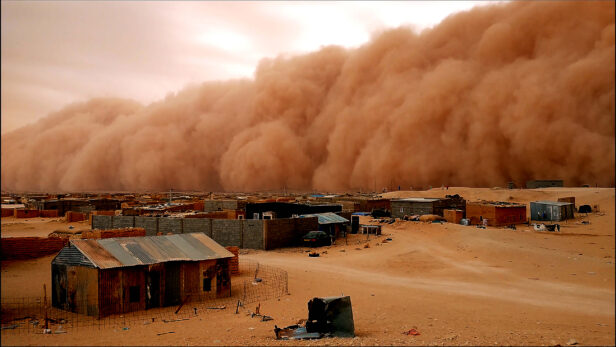 Photo: Sandstorm in Sahrawi refugee camp in Hamada Desert, Sahara by Mohamed Sleiman Labat
Small scale family gardens started to emerge in the Sahrawi refugee camps in the Hamada Desert, southwest Algeria around 2002. Leading figures in the process are Sahrawi agricultural engineers and gardeners who have been researching and developing the garden practices together with the families. The theories and practices have become rulebased knowledge in the community.
Gardens and agricultural knowledge are starting to change the food production for this community where dependency on international aid has been the case since the arrival of the Sahrawi to the refugee camps in 1975. Earlier the Sahrawi were pastoralist nomads in Western Sahara. Pekka Niskanen and Mohamed Sleiman Labat follow in their artistic research project the multi-layered story of phosphate in the Baltic region as well as in the Sahrawi Refugee camps in Hamada Desert. The project deals with phosphate and its effects on two vastly different environments. Phosphate from Western Sahara has ended up in the Baltic Sea to cause eutrophication.
Pekka Niskanen: In the previous research on "Family Gardens, an Emerging Discourse in the Sahrawi Community" Niskanen and Mohamed Sleiman Labat have observed the emergence of small scale family gardens in the Saharawi community in the Hamada Desert. The article appreciates how gardens and agricultural knowledge are starting to change people's perception about food production and diet. Especially for this community where dependency on international aid has been the case since the arrival of the Saharawi to the refugee camps in Algeria in 1975. Niskanen was an artist in residence at Villa Lante at the end of summer 2022 invetigating community gardens in Rome.
Mohamed Sleiman Laba: Born and raised in the Sahrawi Refugee Camps southwest Algeria, my art draws upon the past and present life of the Sahrawi people. In 2015 I created Motif Art Studio after destructive floods in Samara Camp. The studio was built from the discarded materials and broken furniture. The studio organizes different art collaborations, interactive sessions and art talks. It also includes an experimental garden to grow vegetables and plants next to the studio. The garden provides some food for our family as well as an escape from the harsh desert hot environment. My art practice aims to address pressing social and environmental issues.
LEONOR RUIZ DUBROVIN
10.3.

–2

.4.2023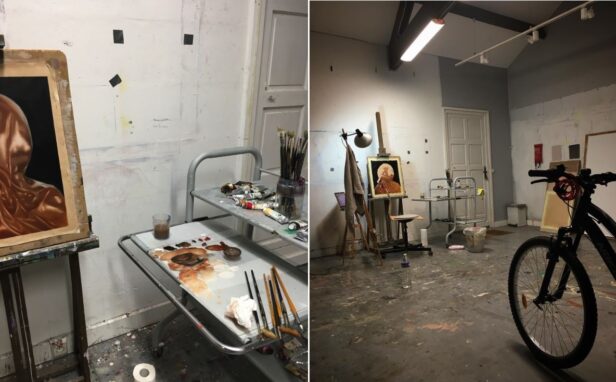 The exhibition will consist of oil paintings that will interlock to form installations. It will revolve around the notion of identity and will explore different concepts such uniqueness, sameness, alterity, alienation…
As a whole, the works will form a fictitious social scenario where different roles and idealized identities will interrelate with each other. Oil paintings of different dimensions will represent a series of scenes and portraits that will form a narrative unit that will go beyond the real, promoting the irrational and dreamlike.
My work is formed by the synthesis of a variety of dualities such as the representative and the suggestive, reality and fiction. The paintings collapse these antagonistic dichotomies that dialogue with each other in order to create alternative conceptual spaces.
Leonor Ruiz Dubrovin (b. 1978) lives and works in Helsinki. She graduated (MFA) from the Finnish Academy of Fine Arts in 2008 and has since then been exhibiting her work in collective and individual exhibitions in different galleries and museums in Finland, Spain, Austria, Denmark and Germany. Such as Taidesalonki Husa, Helsinki Art Museum, Korjaamo Galleria, Galleri Elverket (Pro Artibus Foundation), Finland, Galleri Heike Arndt in Berlin and Denmark, Galerie Toolbox, Berlin, Finnish Cultural Institute in Madrid and Espacio Alexandra, Santander, Spain. Her work has been acquired by several Public and Private collections in Finland and internationally such as the Jenny ja Antti Wihuri Foundation Collection, Pro Artibus Foundation Collection , Finnish State Art Deposit Collection, Museum of Contemporary Art Kiasma (deposition) of Päivi and Paavo Lipponen Trust's Art Collection and the Finnish Art Society, Finland.
https://leonorruizdubrovin.com/
JENNI HAILI – Voyage Out
10.3.

–2

.4.2023

Jenni Hailin valokuvainstallaation Voyage Out lähtökohtana toimivat hänen iso-isotätinstä Fannyn ja isotätinsä Signen emigroitumismatkat Amerikkaan.
Fanny (s. 1894) oli kotoisin Suurperolta ja Säiniöstä Viipurin maalaiskunnasta. Hän muutti yksin 16-vuotiaana New Yorkiin, meni naimisiin ja työskenteli taloudenhoitajana, miehensä merillä.1930-lopulla hän muutti Kaliforniaan, avioitui vielä kahdesti, kunnes kuoli vuonna 1969 Fresnossa.
Signe (s. 1902) lähti täysin vastakkaiselta puolelta Suomea, länsirannikolta Kaskisista New Yorkin kautta Bostoniin 25-vuotiaana. Hän löysi aviomiehekseen ruotsalaisen Alfredin, jonka kanssa avioitui Manhattanilla. Myös Alfred työskenteli merillä. Heidän viimeisin asuinpaikkansa oli Malmössa Ruotsissa.
Installaation muodostamilla aikajanoilla Hailin kuvaamien kuvien rinnalle lomittuvat kuvat eri lähteistä: arkistoista, verkosta, kirjoista sekä tekoälyohjelmien luomat kuvat. Teoksen kuvat on vedostettu historiallisella märkälevyambrotypia-menetelmällä.
Jenni Haili (s. 1980) on Aalto yliopiston Taiteiden ja suunnittelun korkeakoulun Valokuvataiteen koulutusohjelmasta valmistunut valokuvataiteilija. Keskeistä hänen tuotannossaan on piilottamisen ja esittämisen tematiikka, kuten myös valokuvahistoria niin tekniikoiden kuin sisältöjen kautta. Hailin teoksia on nähty useissa yksityis- ja ryhmänäyttelyissä Suomessa ja ulkomailla. Taiteellisen työn ohessa hän opettaa pääasiassa valokuvauksen analogisia menetelmiä Taideyliopiston Kuvataideakatemiassa Helsingissä. 
NORONKOSKI–RAINIO–SIREN
8.4.

–30.4.

2023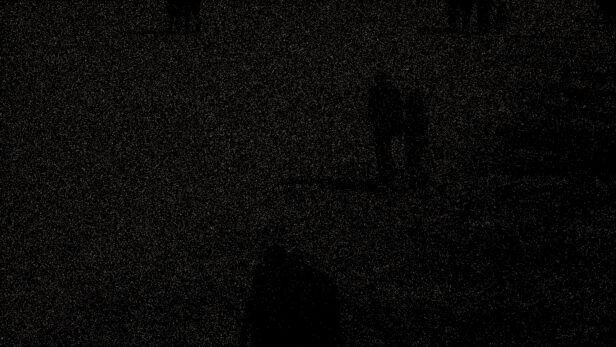 Tuomo Rainio: Space-time Graininess (2022), reaaliaikainen tietokonegrafiikka
Huhtikuussa Forum Box -galleriassa nähdään ja kuullaan Juuso Noronkosken, Tuomo Rainion ja Joonas Sirenin teoksia. Näyttely on taiteilijoiden yhteistyössä toteuttama kokonaisuus, jonka keskeisiä teemoja ovat erilaiset ajalliset kestot ja niiden havainnointi. Näyttelyssä hahmotellaan kuvaa maailmasta, joka rakentuu kappaleiden sijaan tapahtumista. Nopeat ja hitaat tapahtumat – digitaaliset generatiiviset prosessit, kemialliset valokuvat, kivi, vesi ja ääni – lomittuvat yhteen. Kerronnallisen, yhteen suuntaan etenevän aikakäsityksen sijaan, aikaa tarkastellaan kestojen välisten suhteiden kautta.
Juuso Noronkoski (s. 1983) on Helsingissä asuva ja toimiva kuvataiteilija, joka on valmistunut valokuvataiteen maisteriohjelmasta Aalto-yliopistosta vuonna 2015. Valokuvan, paikan sekä ajallisen keston välisellä suhteella on keskeinen rooli taiteilijan työskentelyssä. Noronkosken teokset ovat installaatioita, joissa hän yhdistelee valokuvaa, videota, ääntä, veistoksia sekä tekstikatkelmia. Noronkoski on pitänyt yksityisnäyttelyitä, Suomessa, Saksassa ja Japanissa. Hänen töitään on ollut esillä muun muassa Künstlerhaus Bethanienissä, Berliinissä, Loko Galleryssä, Tokiossa sekä galleria Sinnessä, Galerie Anhavalla, SIC galleriassa ja Hippolytessä, Helsingissä.
Tuomo Rainio (s. 1983) on helsinkiläinen kuvataiteilija, jonka työskentelyssä yhdistyy digitaalinen valokuva, video ja ohjelmointi. Hän on valmistunut Taiteen maisteriksi Valokuvataiteen koulutusohjelmasta Aalto-yliopistosta vuonna 2011. Rainio työskentelee taiteen ja teknologian lehtorina Taideyliopiston Kuvataideakatemiassa. Hänen teoksiaan on esitetty yksityis- ja ryhmänäyttelyissä Suomessa ja ulkomailla vuodesta 2005 alkaen. Viimeisimpänä hänen teoksiaan on ollut mukana Riga Photography Festivalilla vuonna 2020. Hänen teoksensa Untitled (Gravitational Waves) on koettavissa osana Nykytaiteen museo Kiasman ARS17+ Online Art verkkotaiteen kokoelmaa. Rainion teoksia on mm. Nykytaiteen museo Kiasman, Suomen valokuvataiteen museon sekä EMMA – Espoon modernin taiteen museon kokoelmissa, sekä Valtion taidekokoelmassa.
Joonas Siren (s. 1983) on helsinkiläinen ääni- ja mediataiteilija. Hän on valmistunut Kuvataideakatemiasta kuvataiteen maisteriksi tila-aikataiteen linjalta vuonna 2013 sekä Nordic Sound Art -maisteriohjelmasta vuonna 2012. Tärkeimpiä Sirenin näyttelyitä ja projekteja ovat mm: yhteisnäyttely "Toinen laji" Milka Luhtaniemen kanssa Forum Boxissa kesällä 2021, Nordic Sound Art -maisterinäyttely Roskilden nykytaidemuseo 2012, Kuvan kevät 2013, ääniteos Jussi Koitelan Skills of Economy –projektissa Kiasmassa 2016, OFF -performanssi-installaatio Tiivistämössä 2018 (yhteistyö Milka Luhtaniemen, Nicolina Stylianoun ja Elena Rekolan kanssa) sekä yksityisnäyttely "Softbed" Kosminen galleriassa 2019. Lisäksi hän tekee kokeellista elektronista tietokonemusiikkia Forces-nimellä, jolla on hän julkaissut lukuisia levyjä sekä remixejä eri kansainvälisillä elektronisen musiikin levy-yhtiöillä.