Taidetta Jätkälle – Art for the Port
The open competition in two parts seeks a public artwork for the port area in Jätkäsaari, Helsinki. The competition starts on 28 August 2020 and ends on 4 June 2021. The aim of the competition is to find a site-specific artwork that reflects the identity of Jätkäsaari. Jätkäsaari has rapidly transformed into an urban neighbourhood and a meeting place of travellers. It has over a hundred years of industrial and port history behind it connected to today's busy West Harbour. Jätkäsaari is a hub that links the cities of the Gulf of Finland – Helsinki, Tallinn, and St Petersburg – to each other.
The artwork is meant to be located near the harbour, and the competition area consists of the so far unbuilt squares of Atlantinaukio and Madeiranaukio. Both squares will be built in ca. 2022–2025. Atlantinaukio will be an observation platform facing towards the sea whereas Madeiranaukio will be surrounded by dense urban structure.
The initiative for the competition was submitted by Cooperative Forum Box, and the competition will be carried out in cooperation with Port of Helsinki Ltd, City of Helsinki and Helsinki Art Museum HAM. The work will be added to HAM's collections. The jury consists of seven people, who represent each of the organisations and two representatives selected by the Artists' Association of Finland.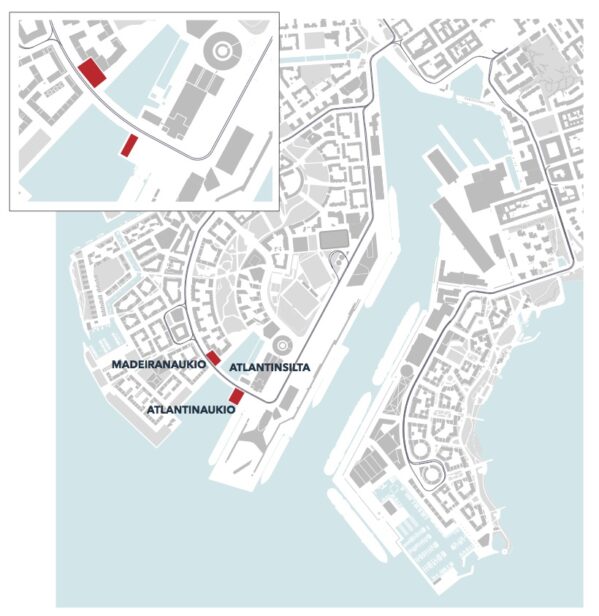 Schedule and Contact Person of the Competition for Participants
The first stage starts on 28 August 2020 and ends on 20 January 2021. Participants can submit questions regarding the first stage of the competition by 15 November 2020 by email to the contact person of the competition: Virpi Näsänen, virpi.nasanen[at]forumbox.fi. The answers to the questions will be posted on this website as soon as possible and at the latest on 1 December 2020.
The jury of the competition will select 3-5 proposals for the second stage starting on 22 February 2021 and ending on 4 June 2021. The winner of the competition will be selected in the summer of 2021.
Jury secretary, communication
Kersti Tainio
0442987546
kersti.tainio[at]forumbox.fi
Competition program
Taidetta_Jätkälle_Competition_Plan
Appendices
3_Details_of_the_covering_materials
4_General_draft_for_the_Atlantinaukio