Introducing our Artists is a new series for presenting the fantastic member artists of our cooperative that was founded over 25 years ago! There are now over a hundred members in the cooperative, representing several generations and genres of top-notch artists.

The first artist to be introduced is visual artist Kaisu Koivisto and her latest installation Siirrettävä monumentti.

At the heart of Kaisu Koivisto's work are the special features of the northern landscape and changes in societies. The surprising combinations of subject and material are characteristic of Koivisto's works, in which she reflects on the interfaces between nature, technology and culture. Kaisu Koivisto's works have been exhibited e.g. in the following places : Kiasma (Helsinki), Aboa Vetus&Ars Nova -museum (Turku), Reina Sofia Museum (Madrid), PS 1 (New York), Estonian Art Museum Kumu (Tallinn), Tokyo Metropolitan Museum, Porin taidemuseo, Galleria Sculptor, Forum Box.
http://www.kaisukoivisto.com
@kaisukoivisto
Facebook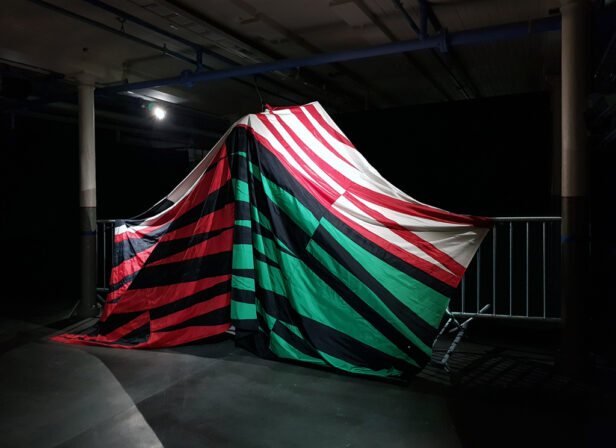 Kaisu Koivisto: Siirrettävä monumentti
Installation (textile, security fences), 2021.
250 x 450 cm
I follow the news of the world closely. Protest movements are demolishing monuments that are offensive from the perspective of our time. Some are protesting for democracy, others for other issues. The unifying factor is the security fences that restrict or attempt to restrict the movement of people. Siirrettävä monumentti (Movable Monument) is an idea of a peaceful monument that can be moved from one place to another. The textile part of the work folds softly over the structure I made of security fences into a tent-like shape.